Get an instant ₦2,000* credited to your Hostingbloc account.
Build your income and get paid when you refer customers to Hostingbloc

QUICK SET UP
Joining is free and fast. Receive your unique HOSTINGBLOC affiliate link in seconds and access to all our helpful resources to increase conversions.

BUILD YOUR INCOME
Build residual income with our recurring affiliate model, you'll earn for the life cycle of the customer, not just their initial purchase.

REQUEST FOR PAYOUT
Once you've reached the minimum threshold of ₦5,000 you can submit a withdraw request to get your cash! It's simple and easy. No long waits.
HOSTINGBLOC has grown with the help and support of our customers, therefore, we want to return the service to those who help us out.We will share 15% of the revenue we earn on an on-going basis for every Hostingbloc user you refer to HOSTINGBLOC that signs up for a product through your affiliate link.
Sign Up And Get Started Today!
Easy set up at no time. To join as an affiliate, all you need to do is follow the link and register as a user on our platform. Supply all your information at the registration page including the billing address.
Check the:

 "I have read and agree to the 

Terms of Service"
Submit with the button
***Please check further your email for Email Address Verification***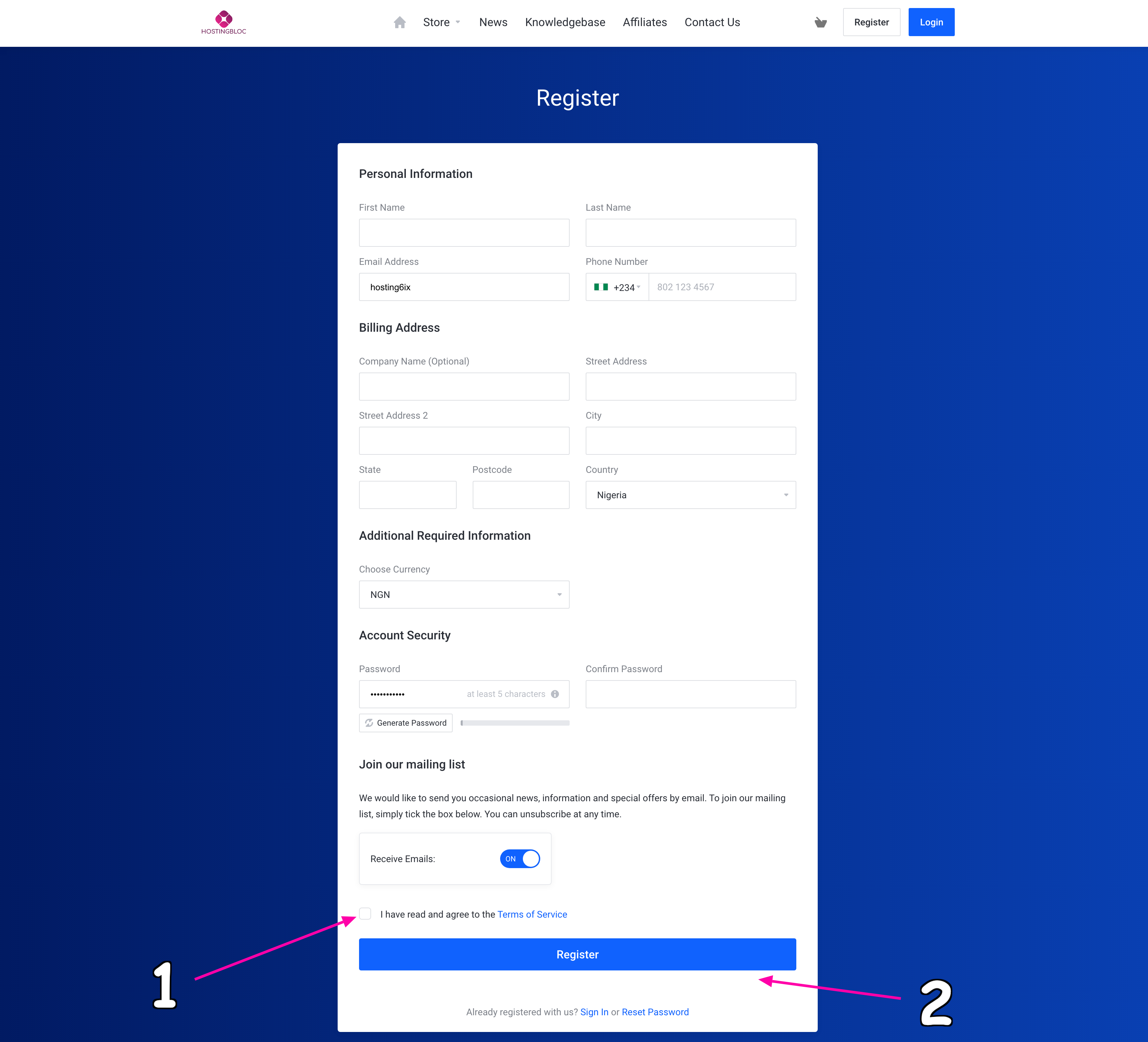 Your next step in this process:

Click on login button

Enter your email address you use during registration

Enter your password

Select "Login Button"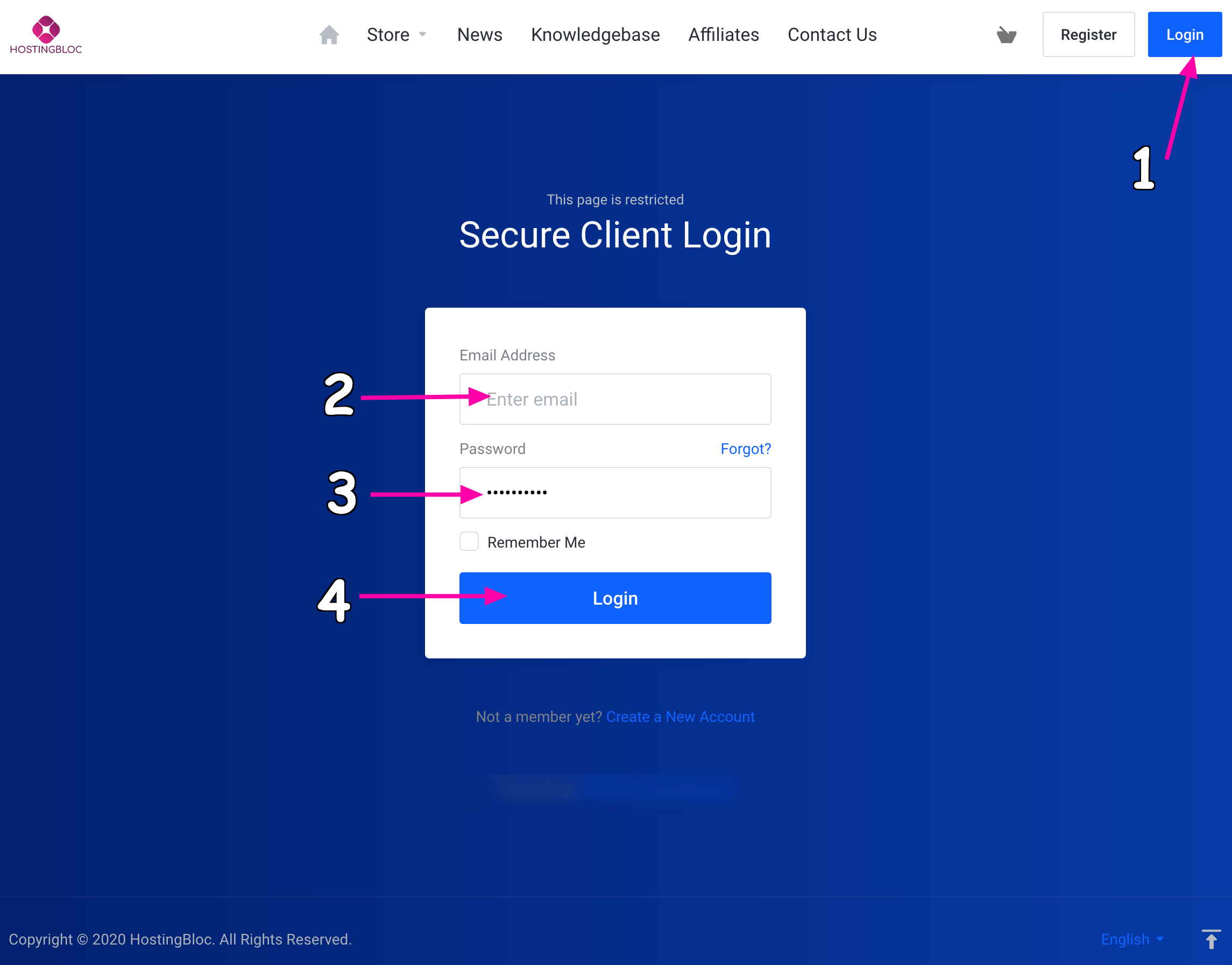 On the client area where you have dashboard:

Click on "Affiliates Tab" to activate and access all the information related to your affiliates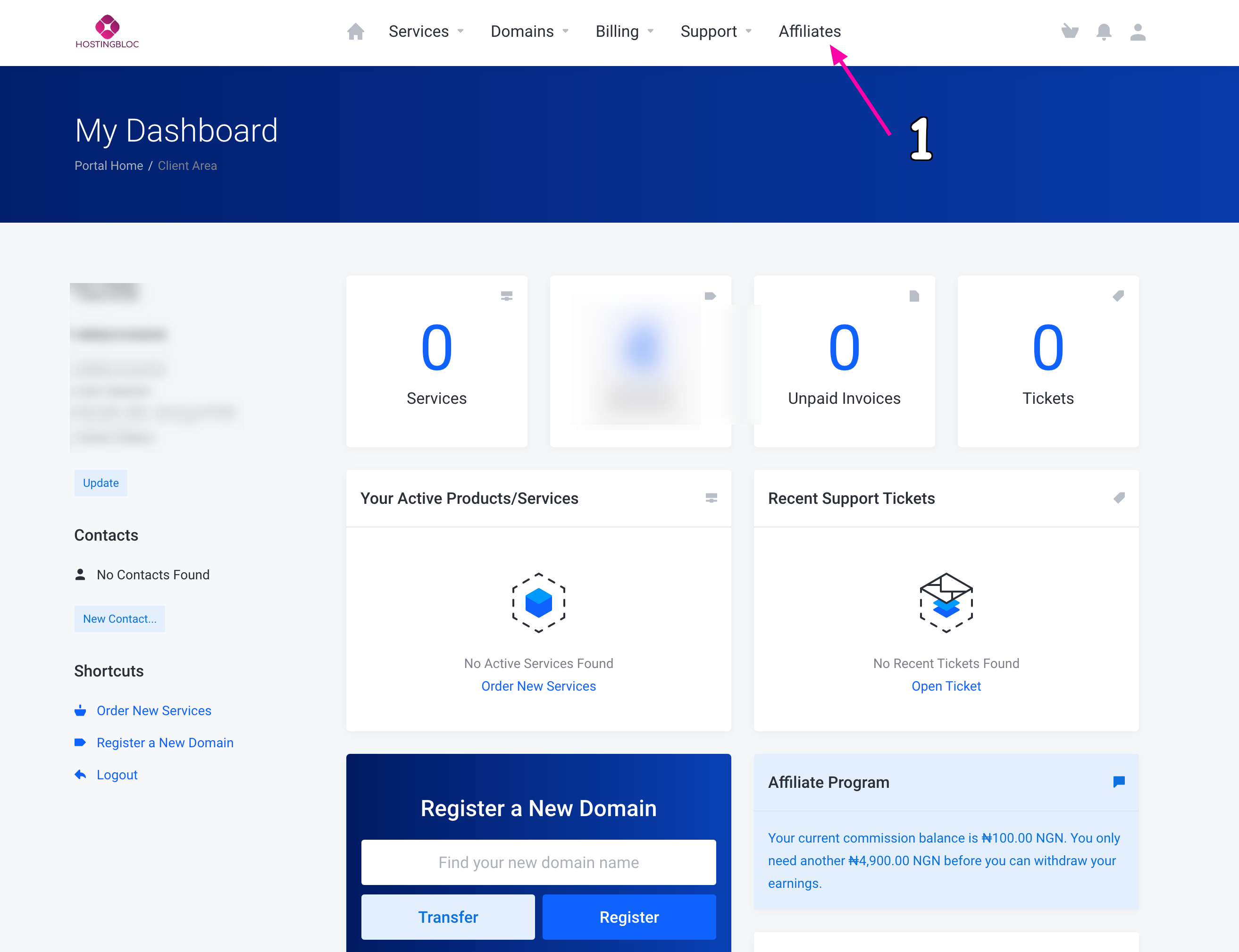 Get paid for referring customers to us!

Click on "Activate Affiliate Account Button" to activate your account and recieve an instant ₦2,000 in your Hostingbloc account.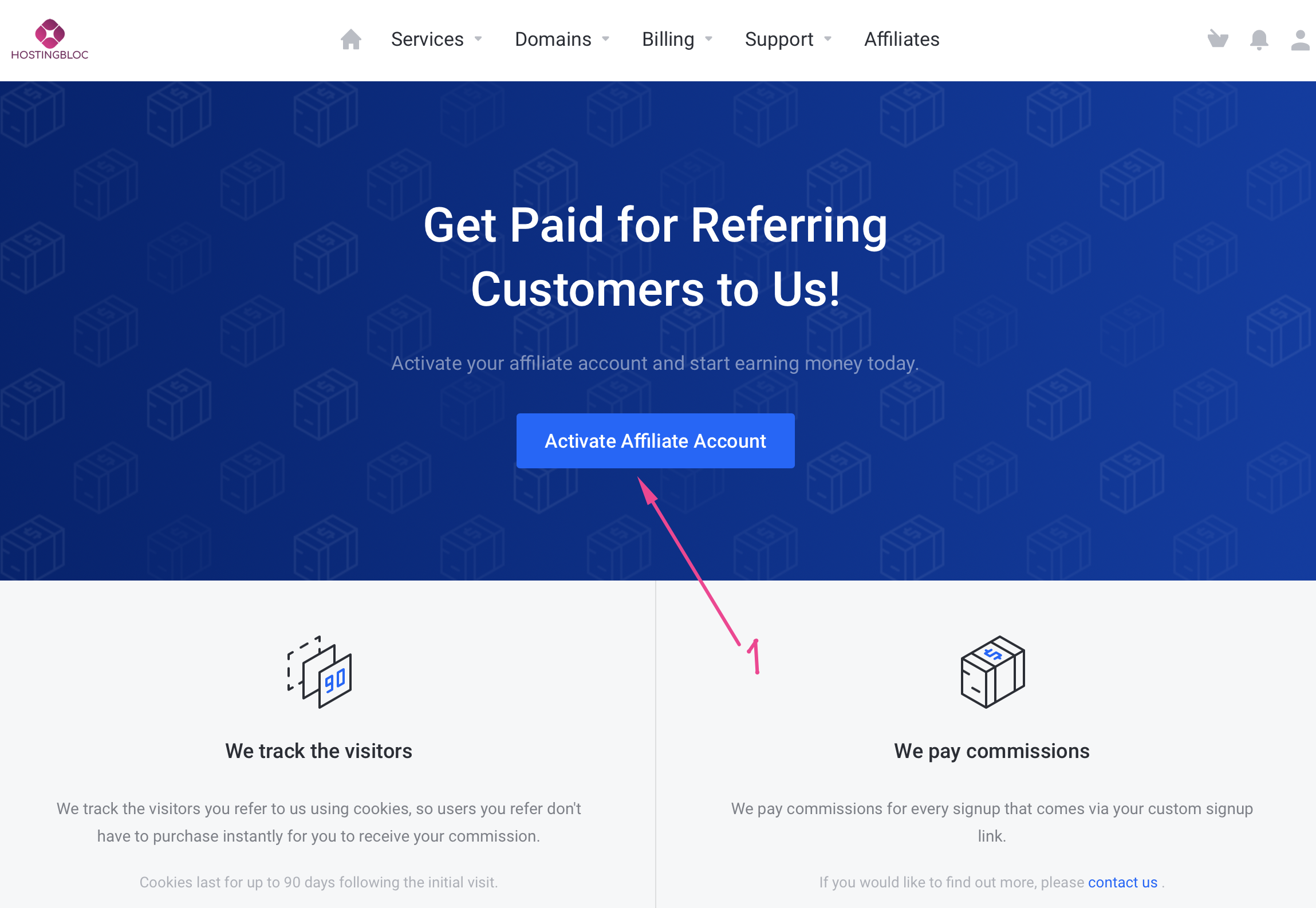 Now you are here as an affiliate
Shows your "Unique Referral Link", you can copy this link anytime and place it on your website, whatsapp, facebook page or instagram 

and watch your account balance grow as your visitors become our customers.

At minimum of ₦5000 you can request for withdrawal by hitting "request withdrawal button"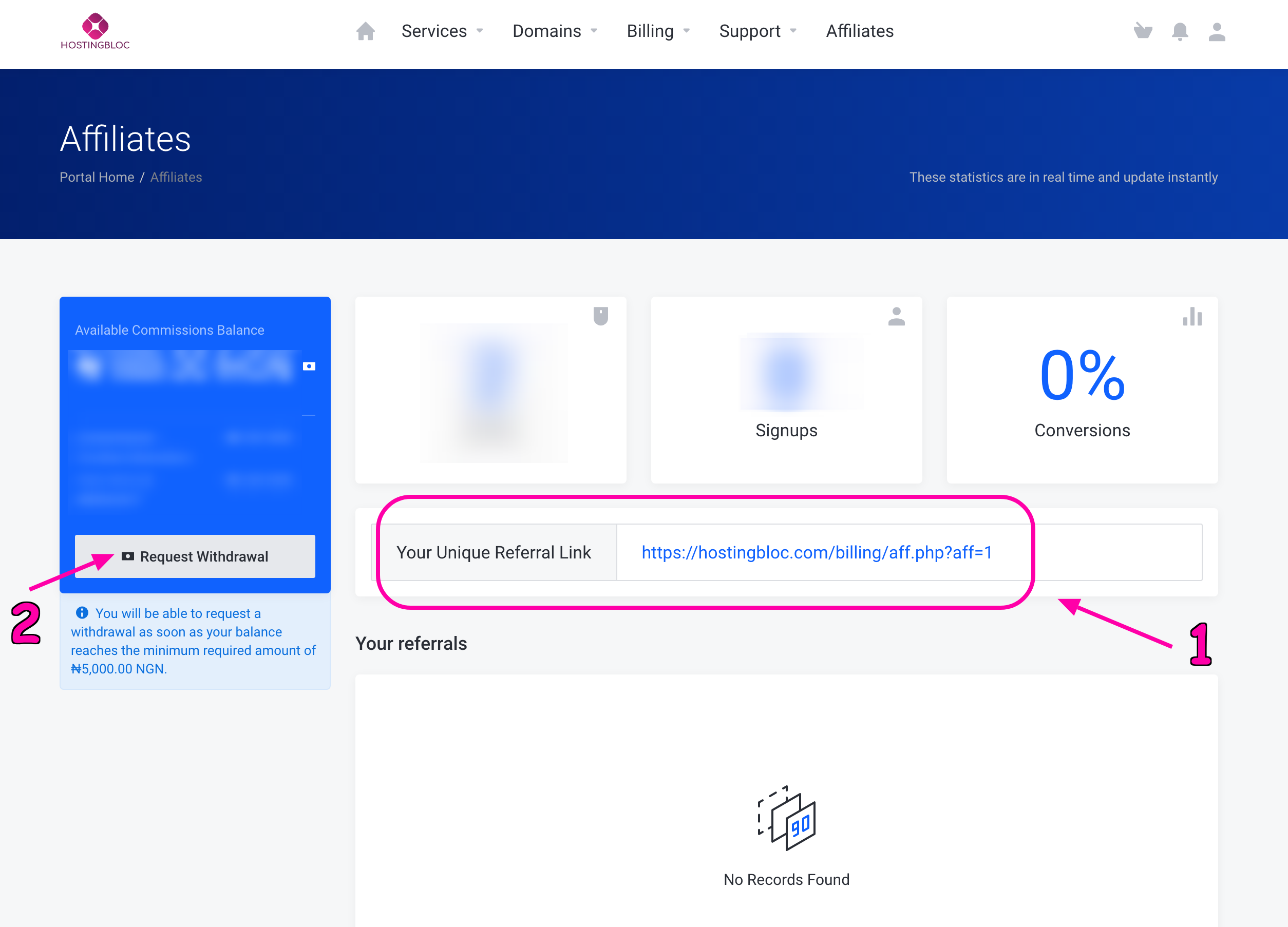 Watch A Video On How To Become An Affilliate
FREQUENTLY ASKED QUESTION
WHAT IS AFFILIATE PROGRAM?
In basic terms, affiliate program is a partnership program you join with hostingbloc by a free registration only, earn money when you refer a customer to us.
WHY SHOULD I JOIN AS AN AFFILIATE?
Becoming a partnership with us comes with lots of benefits.
Be your boss. Manage your account and determine how you want to share your affiliate link either via website, email messages or social media.

Easy to start and maintain. This program is not complicated, its very easy to set up and start earning with products, banners, links that you would share on line.

Our brand & effective promo materials mean the traffic you send to Hostingbloc will convert.
HOW DO AFFILIATES GET PAID?
Affiliates can choose to get paid through a bank transfer for payments after reaching minimum of  threshold of ₦5,000. Otherwise affiliate can request for other options to be get paid by contacting us via: affiliate@hostingbloc.com
HOW CAN I CANCEL MY AFFILIATE ACCOUNT?
If you wish to delete your affiliate account, you can do so by contacting affiliate@hostingbloc.com
If you can't find what you're looking for, please get in touch with us via email, live chat or phone call
⭐️⭐️⭐️⭐️⭐️
What Customers Are Saying About Hostingbloc
Hostingbloc -The team with which to work is a pleasure. Responsible attitude, punctuality, flexibility, attention to the needs and wishes of the client – an integral part of these people's qualities! I strongly recommend to anyone looking for the best and most thoughtful web design solutions.
I cannot tell you how much happy I am. I'm totally blown away by the designs of my website. The first website I had was really out of standard, until I met the website designer team of HostingBloc. Great community, great support, and lots of creative ideas. Thanks!
"Minimalism, cleanliness, speed, and quality are the basic requirements that I look for in web designers, and Hostingbloc team flawlessly coped with tasks, they have incredible patience in refining the nuances and adjusting to the customer and looking for the best solution to fulfill my desires. I'm glad to have the opportunity to work with them!"
Hostingbloc is amazing! I use them as my website hosting company. The team is outstanding and big ups to them. Would definitely recommend using and will continue to be a client.
"The price is very reasonable and support is more that i can describe with words. Hostingbloc is truly a good company. My website was launched within 7days.
Keep up the good works.…
Here you will learn everything on how to build your own professional website. HostingBloc's drag and drop website builder is also designed to be easy, eCommerce-friendly, and perfect for your new business.
Quickly, easily build and grow a website you can be proud of with Hostingbloc Builder. Rather you're building your first website or looking to re-design your current one,
Need A Website Built From Scratch?
We think about customers' satisfaction first before profits
Hostingbloc Support Team is here to help always 24x7x365

Call Us
We standby to help always. 

Live Chat
We standby to help always. 
Email Us
We standby to help always.