A stitch in time saves nine!!! Save yourself by quickly grabbing a domain now, you may never know who else is watching.

DOMAIN LOCKING
Secure unauthorized transfer of your domain names. You have the ability to control either lock or unlock any domain on your dashboard.
DOMAIN RENEWAL
Your registered domain names will auto-renew by default. This will prevent any domain from inadvertently human error.
EASY MANAGEMENT
Your domain control panel is designed for ease-of-use and allows for all aspects of your domains to be managed from a single dashboard.
SEARCH FOR YOUR NEW DOMAIN
Use our Smart Search domain lookup to instantly browse available names ready for immediate registration. Simple enter your brand or keyword/phrase and click search to see what's available. Enter specific TLDs or let our Smart Search show you your best options.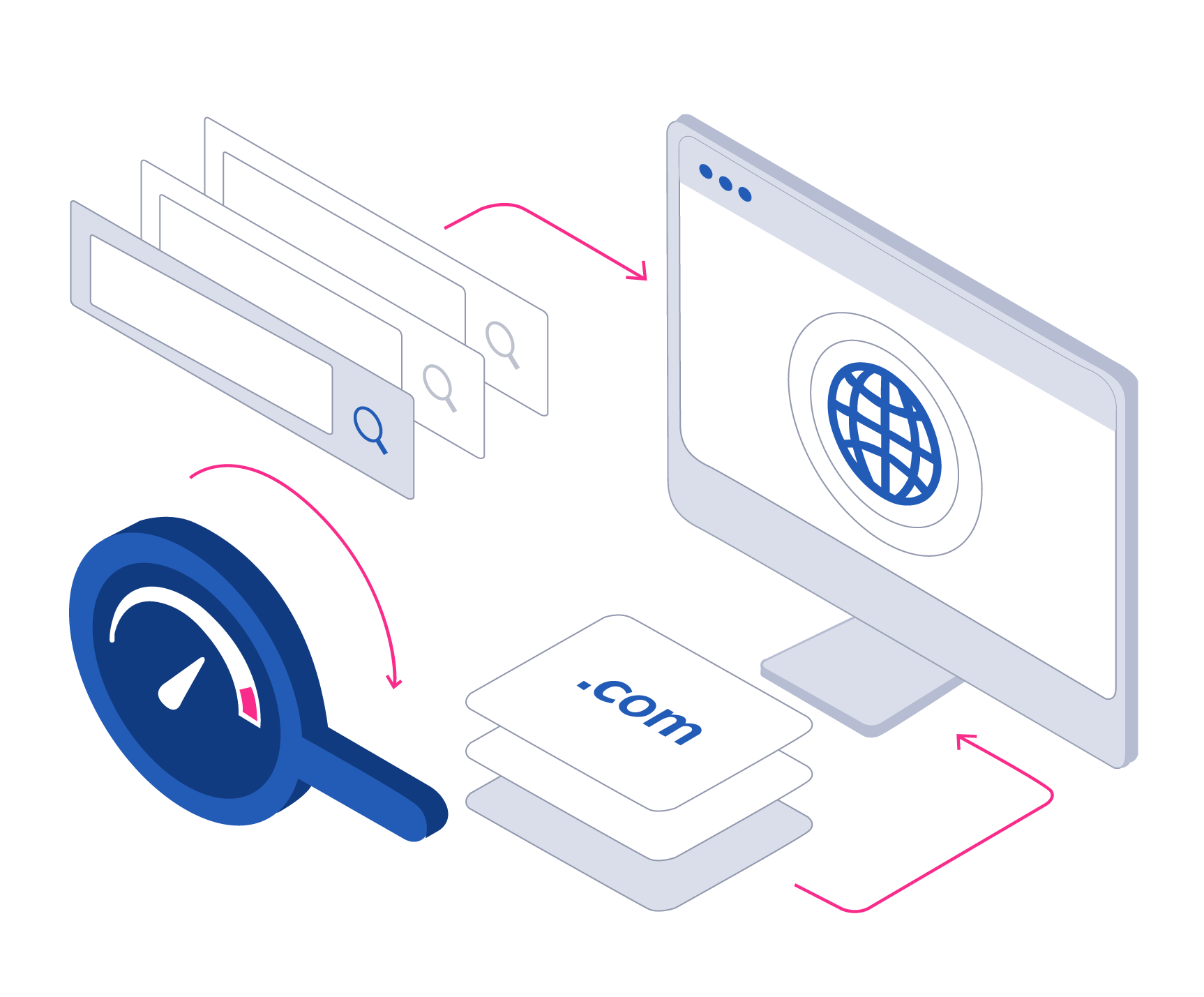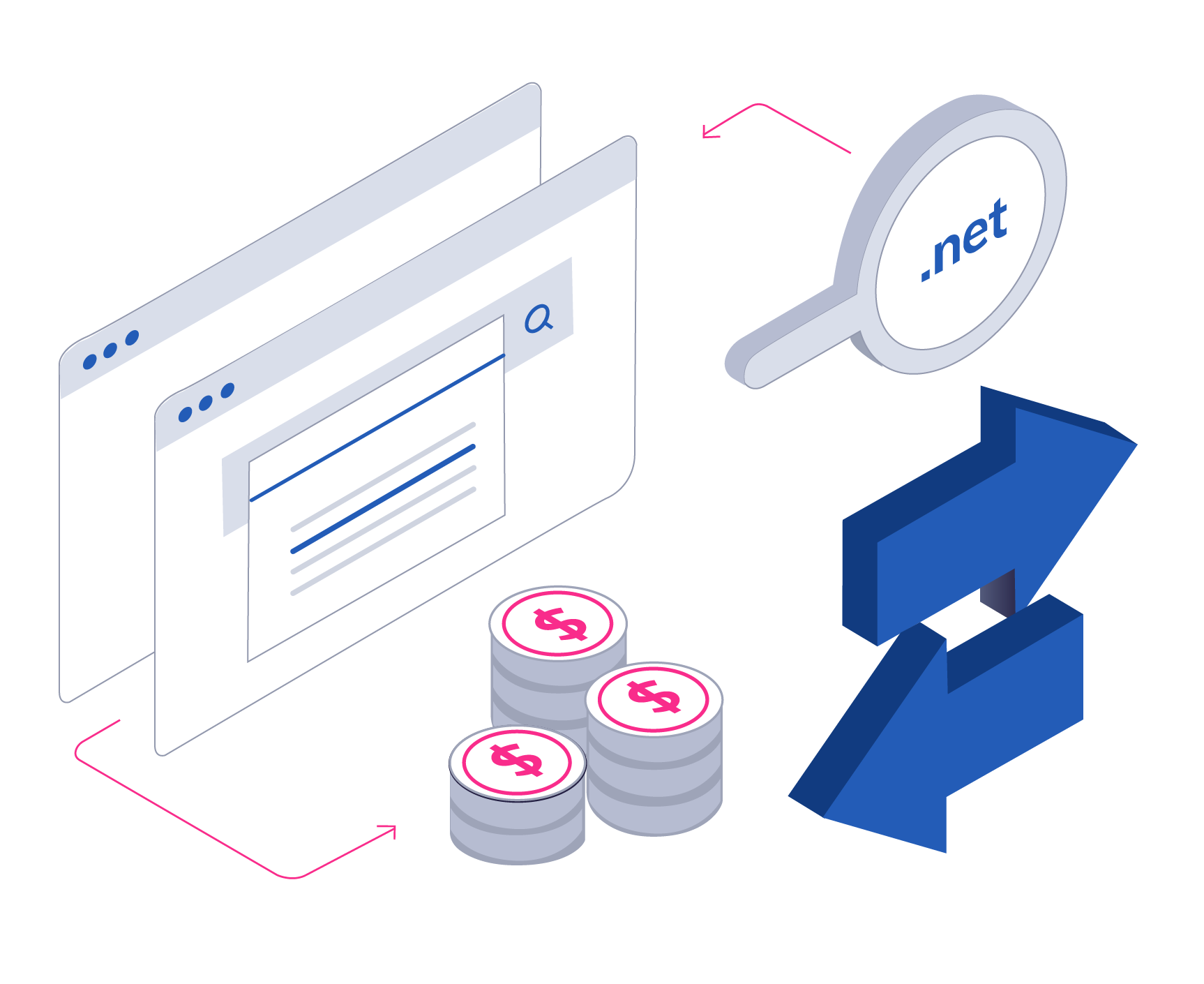 TRANSFER DOMAIN TO HOSTINGBLOC
If you already have a domain at another provider and would like to move it to Hostingbloc, you can easily transfer it by entering it in our Smart Search and clicking Transfer.
DOMAIN MANAGEMENT BY OUR HOSTINGBLOC WORK FORCE
Rather you have one domain or thousands of domains, you can easily manage them all inside our client portal. Manage upcoming renewals, add our Whois Hostingbloc Spam protection, build a website – and if you have any questions contact usfor help.

The most common and widely use domain.
Starting at…
$15.24/year*
$20.00
Technical domain that catches the attention of people
Starting at…
$19.00/year*
$20.00

Give your organisation a beautiful domain
Starting at…
$17.82/year*
$20.00
A Nigeria domain that is absolute unique and widely use.
Starting at…
$17.82/year*
$20.00
Don't be left out with any of Nigeria domain to boost your SEO
Starting at…
$5.60/year*
$9.00
Do good with a beautiful Nigeria domain .org.ng to increase your chance on google
Starting at…
$5.60/year*
$9.00
Give your organisation a beautiful domain.                        
Starting at…
$17.82/year*
$20.00
A Nigeria domain that is absolute unique and widely use.
Starting at…
$17.82/year*
$20.00
*Disclaimers
Sale/introductory pricing valid for the initial purchase term only and FREE for the first year. Product renewal pricing subject to change.
Third-party logos and marks are registered trademarks of their respective owners. All rights reserved.
What You Need To Know About Domain Name
WHAT IS A DOMAIN NAME?
A domain name is your personal or business home on the Internet, it's a piece of online real estate that you control completely—as long as you own the rights to that name. Domain names can be fanciful or transparently descriptive, used for everything from a personal blog to a multinational company's public site, and having one or more is essential for being visible in a crowded online world. Knowing how domain names work, and why they're needed, can help you choose the right name for your business or personal site.
HOW DO DOMAIN NAMES WORK
When you register a domain name from an approved registrar (like Hostingbloc), you effectively secure the rights to use that domain name for a set period of time.
When you've registered your domain name, the next step is to point it to the server which hosts your website. Note that it can also take up to 72 hours for any changes you make to propagate, which is a fancy way of saying that different internet providers from around the world take time to update their records.
The good news about owning a domain name is that you're able to associate it with other services, such as email addresses. You can also create subdomains (i.e. https://subdomain.yourname.com) and set up redirects and forwarders. You can even buy multiple domain names and forward them all to the same website.
Domain names are also interoperable, which means that you're not usually limited to the provider that you bought from. In the same way that you can change your hosting provider, you can also migrate your domain name.
WHY DO YOU NEED A DOMAIN NAME?
There are several reasons for this, the most obvious being that it's good for branding. Nothing looks more unprofessional than a brand that hosts its website at brandname.wordpress.com. This is because as a general rule, the websites that buy and maintain a domain name tend to be those that are more reputable and more established.
But your domain name is so much more than that. Often, the reason why people start a website in the first place is so that there's something they have full control over. When you use social networking sites or free blogging providers, or even if you make a living selling on Amazon and eBay, you're fully reliant on those other sites. If they change their terms of service or the service goes down completely, you're in trouble.
When you've registered a domain name, though, you don't have to rely on anyone else. That domain name belongs to you and you alone, and you have full control over what you do with it. You can control any associated email addresses, determine which server the site accesses and even sell it or transfer ownership if that's what you want to do.
Meanwhile, the status of your domain name has a direct influence on your website's position in search engine results pages (SERPs). Older domain names tend to take priority over newer ones, and at the core of every search engine is a citation model. This means that they determine how influential your website is based on the influence of the links that point towards it – so if you don't own your domain name, any links that you earn will be giving their value to someone else.
HOW DO I CHOOSE THE BEST DOMAIN NAME FOR MY WEBSITE?
This is a tricky one with no concrete answer. The good news is that you can register multiple domain names, and so it's usually a good idea to do that for every domain name that you think of. That way, no matter what happens, you own it.
To get started, you'll want to use our domain checker so that you can look up the availability of your domain name including each of the popular extensions. As a default, you should start by entering your company name – or, if you're launching a blog site, the name of the blog. If that's available as a .com address then the decision is pretty much made for you. Go ahead and register it.
Unfortunately, that's not always easy because of the sheer number of domain names that have already been registered. You're unlikely to find a dictionary word as an available .com domain, for example, and so you'll need to be more creative. This is where that domain checker will come in super useful, because you'll find yourself entering all sorts of combinations until you find something that's available.
As a general rule, the best domain names are memorable and easy to spell, and many of the most popular companies named themselves by merging two words together (like YouTube, Snapchat, Instagram, etc.). Try different words in different combinations until you find something that's available.
While you're at it, it's also a good idea to check whether your domain name is available as a username on the most popular social networkings sites. If it is, register there as well, even if the account is only a placeholder. The last thing you want to do is to create a super successful website and to find that your fans and followers have hijacked the username before you could take it.
Finally, remember that you can always buy multiple domain names and point them to the same site. This comes in useful if you're not sure whether to buy the .com or the .ng name, for example, or if you're worried that people might misspell it. Be creative!
ONCE I REGISTER A DOMAIN NAME, CAN I CHANGE IT LATER?
Once you register a domain name, you own that domain for the length of time that you specified, although you can potentially sell it or to transfer ownership to someone else.
The good news, though, is that if you want to buy a new domain name and to use that one instead, that's not a problem. You'll simply need to follow the same steps you followed when you purchased your first domain name and point the new name to your webserver.
Finally, while it's true that you can change your domain name, it's best not to make a habit of it. After all, the more you use your domain name, the more powerful it becomes. Every time you change it, you lose a bit of the value that you'd worked hard to instill in the old domain name.
DOMAIN NAME AND IP ADDRESS
Domain names use a set of words, letters, or numbers—or a combination of some or all of these—to describe a unique individual or enterprise in a way that's easy to remember and type into a web browser's address bar or a search engine. But, a domain name simply represents a site's "real" address—the Internet Protocol, or IP address.
Unlike a short, catchy domain name, the IP address is a string of unique numbers that allows computers to communicate with each other over the shared Internet network. But these identifying number sequences are long and difficult to remember, let alone type correctly, so domain names act as a public alias for the actual IP address that servers use to point to a specific site. In a protocol called the Domain Name System [DNS], the domain name serves as a link to the IP address, which is the one that's used by the world's webservers to locate and access the website a user is searching for.
DECODING A DOMAIN NAME
A fully qualified domain name is made up of a top-level domain and a subdomain. Top level domains (TLDs) are indicated by letters found on the right of the "dot" in every domain name, such as .com, .net, or .info, as well as country codes like .ng or .com.ng. Originally, only 6 top-level domains were available, but now many new ones are being added, such as .church or .photo. These new top level domain extensions allow for more flexibility in describing what a site is about, and they can be purchased at varying prices through both domain registrars and web hosting services.
The domain name itself is called a subdomain or mid level domain. This is the name chosen by its owner, and it appears to the left of the TLD extension. In the common placeholder website name, www.example.com, "example" is the sample domain name, and .com is the TLD. And the "www?" Originally it was a machine designation that stood for World Wide Web. Today it's largely optional, and many domain names omit it altogether.
BUYING A DOMAIN NAME
Anyone can buy a domain name, as long as it isn't currently in use by someone else. Most new users create a unique domain name that reflects their identity or business brand, and many resources are available to help with finding the right domain name and checking for its availability against various TLD extensions. For example, a name might not be available as a .com, but users could purchase the same name with extensions like .ng or .com.ng
It's also possible to purchase an existing domain name. Users buy rights to names for terms of one to several years, and a name is only "owned" as long as it's continually renewed. Expired names can be purchased through domain marketplaces or brokerages, and it's even possible to buy a domain name directly from its owner. Whether a domain name is new or bought secondhand, it must be registered with a domain name registrar or through a web host in order to be active on the web.
A domain name is a unique online address that not only captures a brand's message and style, but also makes it accessible to searchers worldwide. Whether catchy and clever or plain and practical, domain names put a human face on the numerical locators that keep traffic flowing on the web.
WHAT IS A DOMAIN NAME REGISTRATION?
Domain name registration is the act of reserving a name on the Internet for a certain period, usually one year. It is important to know that this domain will remain yours for as long as you renew it and there is no way to purchase a domain name forever.
Domain name registration is necessary for a website, an email or another web service. However you don't have to always register a new domain name. Many companies allow you to use subdomains of their domain names for a website, or you can have an email with their primary domain (ex. yahoo.com, gmail.com).
The most important thing about a domain name registration is that it gives you personality and recognized identity. Once you register a domain name, the information about its owner is publicly available.
The price for a domain name registration varies greatly on its extension. For example, the most common .com is the most affordable one, while some country-specific domain name extensions are 5 times more expensive.
If you'd like to register a domain name with HostingBloc please check the availabilty of your domain name here
For detailed information about domain name prices, please contact our Customer Care via phone or chat, or check out the prices in at www.hostingbloc.com/domains
WHAT IS THE DIFFERENT BETWEEN .com, .org, .net, .online and .info
Let's take a look at the similarities first: they're all gTLDs (generic top-level domain names) that are available for public registration. That means that as long as nobody else has registered the specific domain name that you're looking for, you should be able to get it with any of these extensions.
Each of the gTLDs has a slightly different meaning, and so it's usually best to pick the one that's most relevant to your website. .com domains are usually used for commercial purposes, such as for an online store or a business site, although they're increasingly being used by default as they imply a certain amount of trust. .net domains were originally used by networking companies (such as internet service providers) but are now also multipurpose.
.org is still largely used as it was originally intended, as a gTLD for charities, communities and local organisations. .info, meanwhile, is aimed at information-based websites such as wikis and tutorial sites.
With all of these gTLDs, there's a certain amount of wiggle room. There's no rule that says you have to use one type of domain name or another – and no test that you have to pass if you want to register one. Think of them as guidelines rather than rules – and feel free to break them if it allows you to snatch up the perfect domain name.
DIFFERENCE BETWEEN DOMAIN AND WEB HOSTING
In order to have a website live on the internet, you will need both web hosting and a domain name. Both of these things can (and do) exist independent of each other, though it is generally considered universal to employ both in order to have an actual website. Metaphorically, let's say you want to invite people to a party (your website). Your party is at a location, such as your house or apartment (web hosting). In order for people to know how to get to the specific location, you must provide them with an address (domain name). So, web hosting is the actual server space where your website files live, and a domain name is the address visitors need in order to view these files as your website. You can have a domain without a website, and you can have a website without a domain name, but to truly benefit from having either in the traditional sense, you actually need both working together
If you can't find what you're looking for, please get in touch with us via email, live chat or phone call
⭐️⭐️⭐️⭐️⭐️
What Customers Are Saying About Hostingbloc
Hostingbloc -The team with which to work is a pleasure. Responsible attitude, punctuality, flexibility, attention to the needs and wishes of the client – an integral part of these people's qualities! I strongly recommend to anyone looking for the best and most thoughtful web design solutions.
I cannot tell you how much happy I am. I'm totally blown away by the designs of my website. The first website I had was really out of standard, until I met the website designer team of HostingBloc. Great community, great support, and lots of creative ideas. Thanks!
"Minimalism, cleanliness, speed, and quality are the basic requirements that I look for in web designers, and Hostingbloc team flawlessly coped with tasks, they have incredible patience in refining the nuances and adjusting to the customer and looking for the best solution to fulfill my desires. I'm glad to have the opportunity to work with them!"
Hostingbloc is amazing! I use them as my website hosting company. The team is outstanding and big ups to them. Would definitely recommend using and will continue to be a client.
"The price is very reasonable and support is more that i can describe with words. Hostingbloc is truly a good company. My website was launched within 7days.
Keep up the good works.…
Here you will learn everything on how to build your own professional website. HostingBloc's drag and drop website builder is also designed to be easy, eCommerce-friendly, and perfect for your new business.
Quickly, easily build and grow a website you can be proud of with Hostingbloc Builder. Rather you're building your first website or looking to re-design your current one,
Need A Website Built From Scratch?
We think about customers' satisfaction first before profits
Hostingbloc Support Team is here to help always 24x7x365

Call Us
We standby to help always. 

Live Chat
We standby to help always. 
Email Us
We standby to help always.