FOLLOW THESE STEPS AND MAKE MONEY WITH YOUR NEW BLOG:
I think you'll agree with me when I say it's REALLY hard to create a blog that actually makes money.
Or is it?
Well, it turns out there is an easy to follow method to do just that!
The best part is it's very easy to learn and anyone with enough motivation can succeed.
In today's post I'm going to show you exactly how to build your first blog, step-by-step from start to finish.
My name is Joy Olabisi, and I am going to lead you on this journey to building a successful blog. I launched a few numbers of successful blogs for clients, which have allowed me to have a career owning my own businesses on the Internet.
For the the time being now, friends and family have constantly asked how they can start making money on the Internet.
My answer is always the same: start writing a blog!
Unfortunately, most people don't know where to start, therefore I've decided to publish this guide that walks you through the exact process.
You don't have to be an Internet guru, a web developer, or even that good at computers to have a successful blog.
You just need to have the motivation to be able to follow directions and stick to it.
Now excuse my bluntness, but it's time to get started.
What Is A Blog?
A blog (a truncation of the expression weblog) is a discussion or informational website published on the World Wide Web consisting of discrete, often informal diary-style text entries ("posts").
Posts are typically displayed in reverse chronological order, so that the most recent post appears first, at the top of the web page. Until 2009, blogs were usually the work of a single individual, occasionally of a small group, and often covered a single subject or topic.
In the 2010s, "multi-author blogs" (MABs) have developed, with posts written by large numbers of authors and sometimes professionally edited. (Wikipedia)
Why You Should Start A Blog!
Make Money / Start A Business – The number of "work from home" opportunities online are tremendous and many of them start with a blog. All seven of my Internet businesses started with me creating an audience by high quality, useful content.
Personal Blog – A personal blog is a great way to express yourself and to help drive attention to things that matter to you. While social media is a good way to connect you with your audience, your blog is a great way to explode your reach.
Promote Products Or Services – Affiliate marketing has been extremely lucrative since the inception of the Internet with people blogging about everything from food to vacations.
Drive Interest To Your Cause – Non profit and charitable organizations find a lot of success attracting a larger reach by blogging about their mission and including rich media content with their growth.
Website For Your Small Business – Every small business needs to have a website. By creating a blog for it, you're able to garner more local SEO traffic appearing more time throughout the search results.
How To Pick A Niche For Your Blog
It's important to have a clear goal in mind when starting your blog. Simply "wanting a blog" is too broad and doesn't allow you to focus on creating high quality content that will leverage your growth.
Before picking a domain for your blog, you should have at least a general idea about the niche.
Here are some example niches:
Health – Just look how big the diet niche is. People are always looking to be in better shape and live healthier, happier lives.
Wealth – Regardless the income bracket, people are always looking for ways to make more money! Those that make a lot are interesting in investing and expanding their assets, while those that don't, are looking for ways to make more.
Relationships – It's our human nature to have good relationships. Just look how big the online dating scene is and how far it has grown over the last decade. It's only going to grow as more people become connected!
Entertainment – My first million-dollar business was a professional wrestling website. I turned my hobby from the early 2000s into a business that reached millions of users around the globe!
Regardless the niche of your blog, you should choose something that you have a passion for. One of the biggest challenges new blogger face is not having enough content. Pick something that really interests you; there are blogs about anything nowadays!
Once you have decided what kind of blog you want to start – it's time to start building! If you follow this tutorial – you should have it up and running within the next hour!
Step 1) Pick A Domain Name For Your Blog
The single most important thing for your blog is a good domain. You want to choose something that is easy to pronounce, spell, and can be branded around your audience. You also want to try to get a .com!
I understand many of "good names" are taken, but here are some tips to help you find something awesome:
LeanDomainSearch.com – This website is really cool when you're trying to find a domain in a particular industry such as "hosting." Basically you type your target keyword/phrase in their search and it matches it with available words. While some of them are silly and don't make sense, sometimes you can find a winning combination.
Step 2) Setup Web Hosting For Your Blog
Regardless your niche, purpose, individual, or business, you're going to need a web host for your blog.
Services such as Blogger are cool, but since they "host" the content they can technically delete it at anytime. Imagine writing a blog for a couple of years and everything disappearing overnight. That would be a tragedy! Unfortunately I've seen it happen more times than one!
To prevent this, you should use self-hosted software such as WordPress.
The most recent stats are showing that since January 2017, WordPress is actually powering 27.4% of the Web, and it's on the rise. It is still by far the most used CMS, with 58.6% market share. Also interestingly on a daily basis there are over 500 sites being created on WordPress (W3Stats).
Thousands of companies offer WordPress hosting, but only a couple have the exact features you need. This is my personal reason behind starting HostingBloc.
All of our WordPress hosting packages come with:
One Click Installation – Install your WordPress website with a couple clicks of a mouse including premium, professional designed themes.
LiteSpeed Web Server – 9 times faster than traditional web hosts such as HostGator and Blue Host.
Free & Automatic SSL – Required by Google to get good search engine rankings, most hosts charge a surplus for SSL certificates. At HostingBloc they're free and automatic (no hassle to install).
cPanel Control Panel – Easily setup email addresses, subdomains, and additional WordPress installations from inside your web browser. No coding knowledge needed!
High Speed Cloud – HostingBloc's cloud allows you to start your website for as low as ₦400.00/month and expand as your website grows without downtime! From 0 visitors to 1,000,000 visitors – we have a plan to fit your blog!
Purchase Your Web Hosting Package
Setting up your Web or WordPress hosting account is easy!
1. Navigate to our Shared Hosting packages and Select Compare Plans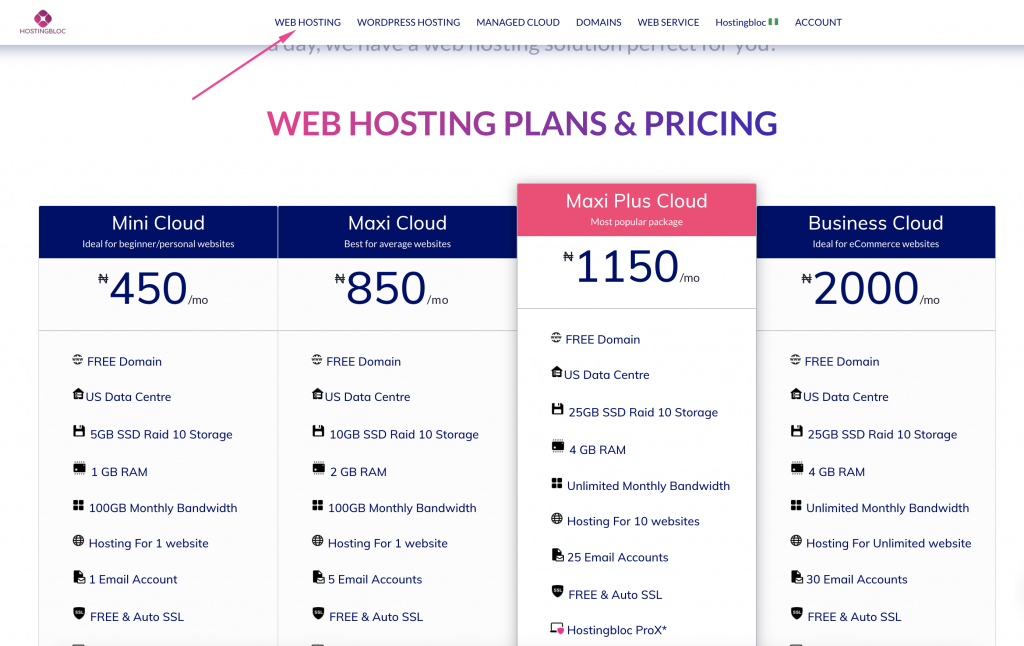 2. Select your Package (we recommend Maxi Cloud Package):
3. Enter your domain name and click check:
4. Add ID protection to your domain (keeps your personal info safe from spammers):

6. Complete payment!
Congratulations! Your web hosting account is setup. Now, you just have to install WordPress! If your website isn't immediately available, you may need to wait a few minutes for it to propagate.
Step 3) Install WordPress In 5 Minutes
Don't be nervous – you're not going to be touching any code or configuration files!
Everything is simple point-and-click. I've also filmed a video tutorial to walk you through the entire way:
1. Login to cPanel from the HostingBloc's client portal:
2. Scroll down to the bottom and click on WordPress under Softaculous:
3. Click Install Now:
4. Select your protocol (I use www), select your domain, and enter your directory (leave blank to install on the root of your domain – recommended):
5. Enter your blog name and description:
6. Create your admin account (make your username/password hard to guess):
7. Select your language and leave the other two settings default unless you know what you're doing:
8. Click Search by themes and choose your FREE premium theme by clicking on Select This:
9. Click Install (enter your email address to have a record of everything):
10. Congratulations! WordPress is now installed! This page will show your wp-admin URL, click on it to login and begin customizing your blog:
Step 4) Install Plugins
WordPress allows you to customize almost every aspect of your website inside their admin interface. For items you cannot customize directly, there is a plug-in for that!
What Is A WordPress Plugin?
WordPress Plugins extend and expand the functionality of WordPress. As of January 2017, there are 48,605 plugins with 1,548,401,838 total downloads at your fingertips through their plugin directory.
I always like to remind people, they shouldn't "overload" their WordPress with plugins as adding too many could compromise the speed and security of the website. When deciding to install a plugin one should consider if the feature is REALLY needed and be sure to keep it updated frequently (along with WordPress itself).
My Favorite WordPress Plugins
How To Install A WordPress Plugin
Login to your WordPress admin area (wp-admin)
Click on Plugins on the left menu
Click Add New
Search for your desired plugin
Click Install Now by the one you wish to install
Activate after installation and configure additional options if required
Step 5) Configure Settings
If you've followed this tutorial step-by-step you may not have to worry too much about configuring the settings for your WordPress installation, but eventually you may find them important for customizing certain aspects of your website such as how your links are formatted.
Inside your settings is where you change your URL's to include https or the way they're structured for search engine optimization. This is also where you edit your website title and tagline!
Step 6) Start Writing Posts
WordPress makes is SUPER easy to login to your admin area and start posting immediately after you sign-up.
If you're looking for the quickest way to get your content online, WordPress is your best option:
How To Create A Post In WordPress
My favorite part of WordPress is that I can schedule my blog posts ahead of time so it looks like I'm actively blogging all week, when in reality I'm writing everything in one day. This is especially great for those with good Inbound Content Marketing strategies.
Also, it's nice that WordPress allows you to embed your YouTube videos, Facebook images, and other media without having to rely on a any additional code or manual uploading. Everything is simply controlled straight from the wp-admin interface.
Step 7) How To Create Content For Your Blog
There are two main things you need to remember when starting your blog: usefulness and consistency.
The more useful your blog is, the faster it will grow. Consider who your target audience is and start helping them solve their issues.
Now, not every blog post has to be that detailed, it could be something as simple as a 5 minute YouTube video, as long as it is helpful. As long as you stick to that format, you will grow an audience (hint: think about what people in your niche are typing into Google).
After you have your content strategy mapped out, it's important to be consistent. Most of the bloggers that fail lack consistency.
Blogging is just like going to the gym. One post isn't going to make you popular. But a collection of posts over time will! Looking back at all of my successful websites, the first six months were the toughest to be consistent, but after that you'll begin to notice fairly steady traffic.
Post frequency also plays a big role into this. Personally, I like to publish at least one useful blog post a day Monday through Friday. This could depend based on your niche. Maybe it's once a week. Regardless, make sure the information is highly useful and something not found elsewhere.
Helpful Content Resources:
Step 8) How To Make Money With Your Blog
Show me the money! This is what comes out of the mouth of most Entrepreneurs when they get started with their first blog or website!
Using WordPress, both individuals and businesses with little to no technical knowledge can get their fully functional website online in a matter of minutes. But how do you monetize it?
First, it's important to note, that unless you're doing something shady (or perhaps illegal), millions aren't going to come overnight. However you CAN start making money (even millions) as long as you're persistent and willing to put in the hard work.
Here are five ways to make money with WordPress:
1) CPM/CPC Ads (i.e. Google Adsense)
By far this has been the most popular route amongst webmasters since it just requires you to copy and paste an ad code on your site. However your results are going to depend on the quality of traffic you're sending.
Google Adsense is looking for visitors (traffic) that actively click and convert on the banners. If your traffic is just clicking the banner or simply viewing it, don't expect high earnings. A good way to "estimate" the value of your traffic, is use the Google Keyword Planner inside of Adwords. Search for keywords and take notice of the estimated bids. The higher they are with the more competition, the more likely you are to have a nice eCPM:
Exponential is another company that pays based off CPM (cost per one thousand impressions). They are another good backup for the inventory Adsense cannot monetize.
You need a lot of monthly visitors to make good money with CPM/CPC ads. If you overload your pages with ads it's likely Google will penalize your search engine results and/or visitors won't return to your site for poor experience. So this is a slow and steady method. Don't put all your eggs in this basket, but have patience it will build over time.
2) Native Ads (i.e. Taboola, Outbrain)
Similar to CPM/CPC Ads, Native Ads are designed to look more like that content of your website or blog. This allows for higher performance including more revenue. It's likely you've seen these ad formats even on popular websites such as Weather.com:
Getting started with these type of ad networks is easy, you just have to integrate their code after your website / blog is approved. As with traditional CPM/CPC ads, I wouldn't put all my eggs in this basket, but as your traffic grows your revenue from this will too.
3) Affiliate Networks (i.e. CJ.com, ShareASale)
If you have a loyal audience, you can make a freaking killing with affiliate networks. Unlike traditional CPM/CPC ad networks, affiliate networks pay a commission for each sale or customer you send to one of their advertisers.
Products can range from physical goods to services such as web hosting or domain registration. For example, we pay out several thousand naira to affiliates each month. If your audience needs a service such as this, you can expect to earn far more revenue with a lot less traffic.
If you want to join our affiliates and receive an instant credit of NGN2,000 in your hostingbloc account, kindly follow this link to register: https://www.hostingbloc.com/affiliates
Other successful examples of websites using the affiliate model are coupon websites like RetailMeNot:
Prior to launching your website or blog it would benefit you to examine affiliate networks for potential advertisers.
If you are knowledgeable at a certain trait then it's very possible you can charge for access to certain articles or section of your website. Another good example of a subscription website is the folks over at SEOBook.com. They have thousands of members paying to learn how to do search engine optimization.
The benefits to charging for your own content is that it doesn't take as much traffic to make some good revenue.
4) Sell Your Own Ads (i.e. OIOpublisher Plugin)
We know from experience you can make good money selling ads using the OIOpublisher WordPress plugin. Each month we spend several thousand dollars on blogs throughout the Internet that use this very plugin. While some sites we'll go out of our way to contact the webmaster to purchase ad space, this plugin allows us to buy media quickly without having to go back and forward with email chains.
Start by settings your prices to be reasonable and charge a fixed rate for the month. If your website or blog is in a niche similar to web hosting, you stand to make a good bit of revenue this way.
In conclusion, when I got started working online in the late nineties it was much more difficult. Content Management Systems such as WordPress didn't exist, so before I could even get my first website online, I had to learn how to code HTML, CGI, and design basic graphics. Having a "successful" idea or way to "monetize" didn't come until I spent months getting my actual site built. So the good news is, using WordPress, all this complicated stuff is done for you!
Before you get ahead of yourself you need to make sure whatever your website is about is something you're passionate about. I've spent a good bit of time coaching Entrepreneurs over the years and the most common point of failure is losing interest. Since money isn't going to come overnight, you're going to have to actually be interested in what you're doing. Over time, money will come. But it may take a year or two to get things really rolling. Don't let this discourage you, once it's built, it's out there to earn!
Step 9) How To Change Your Blog Theme/Design
WordPress makes it extremely easy to have a professional looking theme on your website. During my initial installation video I show how you can easily search through our free theme library and choose a premium theme instantly. But what happens if you want to change it later?
There are thousands of WordPress themes across the Internet! Regardless the subject of your blog, it's likely you'll find a design that's unique to your audience.
DO YOU HAVE ANY QUESTIONS OR NOT CLEAR ABOUT THIS?
Follow this link https://www.hostingbloc.com/contact to get in touch or send us an email: contact@hostingbloc.com